(May 21) Something looks rotten in the State Department of Mike Pompeo.
An NBC News report added more reason to suspect the judgment, fiscal responsibility, and even integrity of Pompeo. All three already were in question when reports emerged that Pompeo was under investigation by the State Department's inspector general for allegedly having staffers walk his dog, handle his dry cleaning, and other personal tasks. The same inspector general, Steve Linick, also was probing Pompeo's handling of an arms sale to Saudi Arabia.
Then, Pompeo strongly recommended that President Trump fire Linick, and Trump complied without specifying a reason other than that he "no longer" had "the fullest confidence" in the job Linick was doing. The obvious impression, whether true or not, is that the firing was an attempt to stop the investigations and punish Linick for them. (Pompeo now claims he was unaware of Linick's probe into his alleged misuse of the staffer.)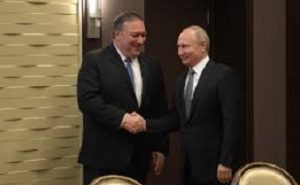 The firing of Linick, such as the firing or demotion of three other inspectors general in recent weeks, should be extremely troubling to anyone concerned about corruption or inefficiency in government. As Republican Sen. Chuck Grassley of Iowa repeatedly has said, the administration's treatment of inspectors general flagrantly violates the spirit of, and arguably the letter of, the laws creating those inspectors.
On top of that, though, now comes this week's NBC News report. According to the network, Pompeo and his wife, Susan Pompeo, have used State Department resources in the past two years to host some two dozen expensive, elaborate soirees known as "Madison Dinners." Some departmental officials, NBC reports, "said they had raised concerns internally that the events were essentially using federal resources to cultivate a donor and supporter base for Pompeo's political ambitions — complete with extensive contact information that gets sent back to Susan Pompeo's personal email address."…
[The full column is here.]