Not one but two pieces — one a straight-news roundup, one an opinion piece — on various aspects of Alabama's ongoing political soap opera.  — Quin Hillyer
1. [Straight news — a comprehensive review of the whole Roy Moore saga going back to 1995, with plenty of forgotten tidbits. Follow the link.] Alabama's 'Ten Commandments Judge' Roy Moore loses appeal, may seek Senate.
2. [Opinion by Quin Hillyer at The Washington Examiner: Alabama's Strange Special Election]
MOBILE, AL — A twice-evicted state Supreme Court Justice, an incumbent U.S. Senator appointed in a decidedly Strange fashion, and perhaps a famously wealthy Yella Fella: This is just a partial cast of characters who will play roles in Alabama's special election this year to fill the remainder of a U.S. Senate term.
With next week's expected entry into the Senate race of the controversial "Ten Commandments Judge," Roy Moore, Alabama will be assured of a campaign the national media will cover by dusting off every anti-Southern shibboleth at its disposal. But this race will have more in common with my native Louisiana's scandalously entertaining 20th Century races (see: Huey and Earl Long and Edwin Edwards) than with Alabama's tradition of predictable, old-style, Deep South demagoguery fests.
As has been amply reported in these pages, current senator Luther Strange was appointed just two months ago to fill the seat vacated when fourth-term senator Jeff Sessions became U.S. Attorney General. Strange had been the state's attorney general; had asked state legislators to put on hold an impeachment investigation into actions of then-Gov. Robert Bentley because their inquiry supposedly interfered with one of his own; had then said he wasn't necessarily investigating Bentley; had then accepted the U.S. Senate appointment from Bentley – and then watched, safe in Washington, as the re-started legislative investigation unearthed such copious details of Bentley's misdeeds that Bentley resigned.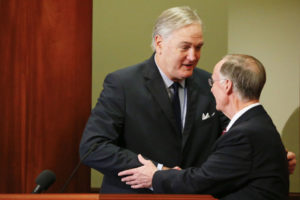 The stench of a possible wink-and-nod quid pro quo between Bentley and Strange was only increased when people wondered why the Legislature was so quickly able to make the case against Bentley that Strange's office had spent months failing to demonstrate.
Enter Moore….