Follow the links embedded in the headlines.
If Trump wants more civic peace, he shouldn't re-welcome Steve Bannon (Aug. 17): Decent Americans should read with disgust the news that disgraced former White House aide Steve Bannon appears to be squirming back into President Trump's good graces.
At a time when Trump's continuing games of footsie with racially charged people and memes have been roiling national news for weeks, the last thing this country needs is for its president to re-welcome into his orbit one of the most enthusiastic supporters of the alt-right. Bannon also was guilty of a particularly egregious bit of anti-Mormon demagoguery that smeared the patriotism of former Republican presidential nominee Mitt Romney and his family.
In short, Bannon is poison in the body politic….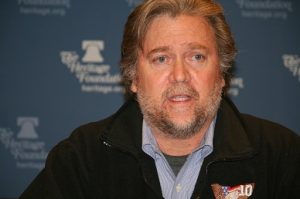 The Trump recession could be right around the corner (NOTE: published on Aug. 12, the day before the stock market's 800-point drop): The signs of health risks for the U.S. economy suddenly are everywhere. And President Trump's prescriptions for prevention would actually be poison for the patient.
At a single time today, the Drudge Report featured four stories all pointing to different worrisome economic indicators, while the Wall Street Journal's website was publishing a fifth. Trump's quack medicines for the problems include significantly higher federal spending, significantly lower interest rates, and more aggressive trade wars. What's needed instead is lower federal spending, steady interest rates, and a major relaxation in trade tensions….
Condo minimum? New Trump policy repeats same old error (Aug. 14): Who knew that when the United States elected Donald Trump as president, we would get Bill Clinton's mortgage-lending policies?
That is what is starting to happen as the Federal Housing Administration is now (to quote the Wall Street Journal) "vastly expanding the scope of condominium purchases eligible for lower-down-payment loans." Noting that "FHA-backed loans require only a 3.5% down payment and lower credit score than conventional loans," the Journal notes that the Trump administration's decision "also loosens financial-crisis-era rules and could expose the government to a higher likelihood of loan default if the housing market continues to slow and prices fall."
As a reminder, these are sorts of policies that conservatives consistently have blamed for causing the financial crisis of 2008-09. …