(Dec. 3) Olympic decathlon gold medalist Rafer Johnson, who died Dec. 3 at age 86, epitomized the phrase "American hero."
When his event's winner was known universally as "the world's greatest athlete," a megastar above other megastars, Johnson showed not just the skill and grit of a champion but the class of a true sportsman, along with a consummate dignity, a palpable patriotism, and a heart for charity.
His extremely narrow 1960 Olympic victory over his friend C.K Yang, then the closest in history, was the stuff of legend, culminating in the two literally leaning on each other for physical support while trying to find air in their lungs after the thrilling 1,500-meter finish. The rest of Johnson's life also had the aspects of a Hollywood epic: class president at UCLA; basketball player under the unparalleled John Wooden; NFL draftee as a running back; brother of an NFL Hall of Famer; an actor, first recruited to the movies (for Spartacus) by Kirk Douglas, who later ran the gamut of co-stars and films from Bob Hope to Elvis Presley to Frank Sinatra to Lassie and James Bond; and, of course, famously, a dear friend of Robert F. Kennedy.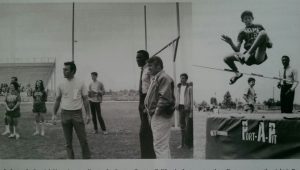 The story is well told of how Johnson was with Kennedy when the latter was assassinated, and how Johnson and football player Roosevelt Grier wrestled assassin Sirhan Sirhan to the ground before Johnson ended up putting the gun in his own pocket. After the shock and depression wore off, Johnson and Eunice Kennedy Shriver became the driving forces behind the creation of the Special Olympics, and then Johnson served that cause devotedly, including years as chairman, for another half a century. He also volunteered for the Shriver-led Peace Corps, for the Red Cross, the March of Dimes, the Muscular Dystrophy Association, and for numerous boards of UCLA….
[The full column is at this link.]