Exclusive for this web site, by Quin.
The Saints probably should trade "down" twice in this weekend's draft, securing ten picks (rather than the usual seven) as they make a real push this year to win a second Super Bowl title before quarterback Drew Brees' career winds down.
For whatever reason, I am nearly obsessed with the NFL draft. In recent years I have made a habit of doing a mock draft for the Saints – and until last year, I had done a better job than the Saints did, picking more players who turned out well in the NFL than the Saints did, in draft positions where they usually did turn out to be available. (For example, I was desperate for the Saints to draft linebacker Eric Kendricks in 2015, and he was still available when the Saints instead drafted Stephone Anthony – and Kendricks has vastly outperformed Anthony since entering the pro ranks.)
Last year was an entirely different story, though, as I notched one big "hit" by recommending Alvin Kamara but was completely outdrafted by the Saints brass otherwise. They get to study about a gazillion more game tapes than I do, so that is how it should be.
Anyway, though, I have clear preferences. I reject players out of hand if they have serious character questions; I prefer actual on-field producers above "workout wonders"; I don't like the Saints' propensity to somewhat discount injury problems (see: Hau'oli Kikaha and Alex Anzalone); I value intelligence and functional short-space quickness over raw power (except in interior lines); and, of course, like most other fans, when all other considerations are even somewhat in balance, I'll take raw speed any chance I get.
And, like the Saints, I believe in the "best player available" approach, with "areas of need" only a tie-breaker, not the prime determinant. (I like the idea, rarely used by the Saints, of trading down if there are no standouts when it's the Saints' turn to draft, but at least a couple of marginally lesser rated players at the same position of need who still are likely to be available at the traded-down slot.)
Finally, I believe this should be considered a "go for broke" year because of the high quality of the Saints' current depth and the advancing age of the still-superb Brees. A single absolute superstar in the right position, for example, could be the final piece of our puzzle, and I would nearly move heaven and earth to secure that superstar.
In this year's case, I think defensive end Bradley Chubb is that superstar, reminding me of a young Carl Eller (I'm dating myself), but presumably without the substance-abuse propensity. I would literally trade this entire Saints draft plus next year's second rounder in order to select Chubb – but, according to the most commonly used draft value board, not even that large an offer would be enough for the Saints to move up far enough to draft him.
So Chubb is out of the question.
The rules I therefore followed in my mock draft were as follows.
First, as I consider Peter King of Sports Illustrated to be the most well-informed reporter in the business, I treated as gospel his predictions of first-round draft order in terms of ruling out players I hoped might fall to the Saints' slot number 27 in the first round. If King predicts they won't be there, I can't draft them. Therefore, no defensive tackles Vita Vea or Da'Ron Payne, no cornerback Josh Jackson (on whom I have a fan-crush, he's so good), no LBs Rashaan Evans or Harold Landry, and no wide receiver Calvin Ridley. Darn.
Of the players I thought would be good values and good fits for the Saints'style for the 27th pick, the only one left is UTEP guard Will Hernandez – and I would be happy to see the Saints get him. But I would be worried that with the next choice not coming until pick 91, the Saints would miss out on too many quality players in between unless we trade down to get some more picks in the "meat" of this year's talent allotment, which is in the 2nd and 3rd rounds.
Fortunately, there is good, practical reason to believe the Cleveland Browns will come calling.
The Browns enjoy an incredible abundance of high draft picks, with slots 1, 4, 33, 35, and 64. (Wow.) King has them already nabbing their franchise QB in Sam Darnold and the aforementioned future Hall of Famer, Chubb. But they are losing their longtime stalwart at left tackle, Joe Thomas, and they desperately need somebody to protect their investment in Darnold. Only one tackle with near-first-round talent, Connor Williams of Texas, remains on the board, so the Browns are willing to move up to get him.
All that said, this year I conducted a mock draft not as a prediction at all of what will happen, but as a chance to figure what I would do if certain eminently plausible scenarios played out.
Hence the big trade with the Saints: The Saints give up our slot 27 plus a next year's second rounder (future year picks are usually treated at half-value in draft trades), and in return we get the Browns' number 33 and number 64 (end of second round), plus their top-of-sixth-round slot at 175. (All of these trade values are in line with the trade value chart mentioned earlier.)
Okay, my next rules are these. With King only predicting the first round, I need to look elsewhere for my next guide. For picks 33 through 100, I use the "top 100" list of ESPN's knowledgeable Jeff Legwold. (These aren't his projections, but his ranking by his judgment of the players' pro-level ability.) For the second round, I must stay within four picks, up or down, from his slotting. After that, I must stay within seven. (This way, I am relying on expert parameters, not my own, for judgment of a player's draft potential.)
And when Legwold's list runs out at pick 100, I use as a guide the all-rounds, all-picks mock draft of a random but seemingly knowledgeable Internet dude named Scott Dochterman.
** At pick 33, the Saints get the all-around tight end they need, without overpaying for a guy whose drawback is that he's already 25 years old. Hayden Hurst is a superb athlete, boasts phenomenal hands and concentration, and is a good blocker, too.
After that, the Saints are not done trading down. They really want an edge rusher, and LSU's dynamic Arden Key, who they have thoroughly checked out, is still available at pick 64. They are fairly sure they can keep him on the straight and narrow – but not 100 percent certain. They make a choice: If they trade down a few slots and he is still available, they will take him plus the extra picks they garner. Otherwise, they'll figure his character issues are well enough left alone.
The Jets come calling. They desperately need an edge rusher, and are afraid Key won't be there by their next pick at slot 72. They give the Saints picks 72 and 107 (a fourth rounder) for the Saints' 64 and 147 (a fifth-rounder) slots. The Saints give up a chance at Key, but move up 40 spots from a position where the talent has started to run out to a slot where that high-mid-level talent is still rather abundant.
Okay, the Saints are finally done trading. In addition to Hurst, they now have two third-rounders (72 and 91), two fourth-rounders (107 and 127), a fifth rounder (164), three sixth rounders (175, 189 and 201) and a seventh rounder (245).
Here's who they choose in those slots:
** 72: Tim Settle, DT, Virginia Tech. The NFL analyst says he has a "Pro Bowl ceiling," and the Saints are known to be looking for a DT.
** 91: Parry Nickerson, Tulane's lightning-fast, high-production CB. The Saints can't afford not to have quality depth at CB, where the injury bug always hits them hard – and Nickerson's speed makes him a natural for special teams stardom as well.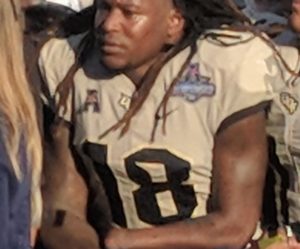 ** 107: LB/Safety Shaquem Griffin, the freakishly athletic, all-heart, one-handed, best story of the draft. In addition to being a special teams beast, he probably could play 20-25 defensive snaps a game in the "near-the-line" role filled last year by Kenny Vaccaro. Other than his missing hand, he actually has better measurable and production coming out of college than Vaccaro did. Each boasted college seasons with 92 tackles; Griffin's 13.5 tackles for loss, team-high seven sacks, one interception, three pass breakups, and two forced fumbles outstrip Vaccaro's 4.5 tackles for loss, no sacks, two interceptions, and no forced fumbles. Griffin is both bigger and faster, too: 227 pounds and 4.38 (!!!) speed vs. 214 pounds and 4.63 pokeyness.
** 127: Wide receiver Equanimeous St. Brown, a tall, fast prospect with oodles of upside who needs work – and will get it with Drew Brees cracking the practice whip.
** 164: Timon Parris from Stony Brook college, a perfect addition to the Saint's long line of small-school gems for the offensive line. (I'm breaking my "no bad injury" rule here, but his size, strength and quick feet make him worth a flyer late in round five.)
** 175: Some guy they named after me, Quin Blanding, a hard-nosed safety from Virginia (slotted exactly at 175 by Dochterman. Not super-fast (but no slower than Vaccaro was), but of good size and with almost mind-boggling productivity and durability. A true gamer.
** 189: I can see the Saints deciding they are scraping the bottom of the talent barrel and trading this 6th rounder for a 2019 fifth rounder (slightly making up for trading away the 2019 second-rounder earlier in my scenario). But if they don't, they may as well take a flyer on a truly intriguing QB prospect, Riley Ferguson of Memphis. To quote the NFL site, "Ferguson led Memphis' offense by completing 63 percent of his 443 throws for 3,698 yards, 32 touchdowns, and just 10 interceptions. His ability to lead a team, move within the pocket, and deliver accurate passes to all parts of the field have scouts intrigued."
** 201: Yikes! The "best player available" approach left the Saints again without a top-notch edge rusher, despite our desires for one! So, now that we're beyond 200 picks, we draft for need: defensive ends with serious question marks but really high upsides if the stars aline. Here, they take Kylie Fitts, a really good athlete (4.69 speed at 263 pounds! 31 bench-press reps!) plagued by (non-career-threatening) injuries. His 2017 videos don't show much that's impressive (I looked), but back in 2015, as a sophomore, his stats were marvelous.
** And at 245, they try James Looney (no relation to Joe Don, for you real old-timers), brother of a current NFLer (the Saints brass loves prior NFL pedigrees), and exactly the person Dochterman predicts the Saints will choose. He has "practice squad" written all over him, but he has good instincts, quickness, pursuit, and attitude.
There. This could work. I would be absolutely thrilled with the first five choices above, and think the next three are well matched to their putative draft position. The last two might be wastes, but so late in the draft, very few diamond slivers are left in the thick, thick rough – and even a "camp body" can be of use to a team if he's athletic enough.
Plus, how can a draft go wrong if it includes a Quin?