Continuing on the NFL draft from posts above, with this here featuring the middle picks….
Round 4, spot 138. Here's where I make a reach, but only after a trade down again. At the Saints' original spot 133, the guy I really like is subject to absolutely wildly divergent assessments by scouts. Some have him going earlier than this spot, but most have him falling much farther down, so I feel certain he will be available several spots later. I won't feel as bad about "reaching" for him if I get another choice, of some sort, in addition to using my pick on him. So I put out the word I want to trade down.
The Cowboys' Jerry Brown, at his Jerry Browniest, has his eye on a particular player and doesn't want to wait five more picks, so he obliges. He trades pick 138 and a 2022 fifth rounder for the Saints' spot 133 and a 2022 seventh rounder. And yes, the guy I want remains available at 138.
He is Zech McPhearson, CB, Texas Tech. (By the way, if McPhearson is NOT available, LSU CB Kary Vincent Jr., probably will be, and he too looked pretty darn good to me.) Why McPhearson (especially since I couldn't find as much video for him as for some others)? First, my biggest pet peeve about CBs is that too many of them are okay at guarding their man, but can't find the ball in the air. McPhearson, on the other hand, has really good ball awareness, using what one scout calls his "ball tracking skills" from being a superb baseball outfielder. Second, he came on strong in his senior year, with four interceptions. Third, his Pro Day numbers showed he is much more physically gifted than scouts had assumed. With a 40 time of 4.48 (4.44 or better is my preference, but anything under 4.5 is good enough for the pros in my book) plus greater "fluidity" than most (meaning he makes up a half step by being quicker in transition), top-notch quickness, and great jumping ability (vertical over 40 inches), McPhearson shows he has the tools to compete at the next level.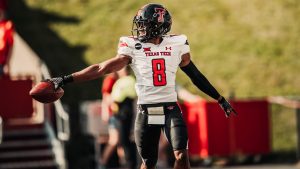 He's also smart and diligent, graduating from Penn State in just three years and then getting a Masters at Tech. Finally – and this is the key – if he fails to immediately earn the starting nod at CB, he still will be a special teams stud. He blocked two extra points as a junior, and returned a blocked punt 90 yards for a TD last year and a fumble recovery 56 yards as well. He could easily make up for the Saints having lost special teams ace Justin Hardee in free agency.
Round 6, spot 202. Darrick Forrest, S, Cincinnati. For those who remember gritty, enthusiastic Saints safety Sammy Knight, well, that is who Forrest reminds me of. For a sixth round pick, well, that's pretty darn good. Nuff said.
Round 6, spot 218. Patrick Johnson, DE, Tulane. The Saints probably won't go for Johnson, because he played as a stand-up end, not in a three-point stance. I don't care. This guy has a real motor. I love the way he plays, and his 4.66 speed is outstanding for a lineman. He had 10 sacks in each of his sophomore and senior seasons, and overall 40 tackles for loss in his last 37 games. The Athletic's draft guide rightfully says he "plays with the physicality of a 275-pounder" even though he now weighs only 240. I'd rotate him in on obvious passing downs, moving Marcus Davenport inside where his 6'7" frame can block the QB's sightlines, with Cam Jordan and David Onyemata also providing pressure, with Zach Baun in as the third LB in this package but blitzing from the outside, with Demario Davis and Nick Bolton the other two LBs providing interior pass coverage, and with Marcus Williams, Malcolm Jenkins, Marshon Lattimore, and Ceedee Deuce as DBs. That lineup would give offenses absolute fits on third and long.
Round 7, spot 255. Kayode Awosika, OL, Buffalo. Credit to Jeff Duncan at The Athletic for listing Awosika among his "Saints Kind of Guys" in the draft. He may be a diamond in the rough, versatile between OL positions, and he's clearly a very intelligent guy. Amazingly enough, the draft analysts' "consensus big board" has Awosika at spot 255, exactly where the Saints pick here. I like the fit.