(Sept. 7) Tennis superstar Novak Djokovic paid dearly for a momentary outburst of relatively mild frustration, but handled it like a consummate gentleman. He deservedly lost a chance at a major title crucial to resumé, but he deserves to win more fans for his sportsmanship.
Djokovic, with 17 major singles titles, is chasing Rafael Nadal, with 19, and Roger Federer, with 20, for bragging rights as the greatest major singles champion in tennis history. With Nadal (fear of COVID) and Federer (injury) absent from this year's U.S. Open, which continues until next weekend, and Djokovic playing dominant tennis all year, the Serbian seemed likely to nab another Grand Slam trophy.
Instead, toward the end of the first set of his round-of-16 match against Spain's Pablo Carreno Busta, with the Spaniard playing beautiful tennis, Djokovic took a hard spill and painfully jarred his shoulder. A few points later, Carreno Busta broke Djokovic's serve for a 6-5 lead in the set. While walking to the sideline for the odd-game changeover, the unhappy Djokovic hit a spare ball, a bit too hard, toward the court's backboard without directly looking where he was hitting it. Unfortunately, the ball caught a line umpire in the throat, leaving her gasping for breath and with a bruise, and she had to leave the court for treatment.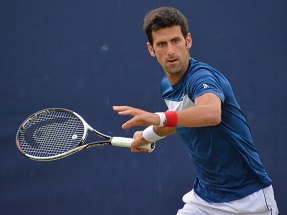 In line with the sport's rulebook, Djokovic was disqualified from the tournament for "intentionally hitting a ball dangerously or recklessly within the court or hitting a ball with negligent disregard of the consequences." Nobody, Djokovic included, seems to dispute that the disqualification was appropriate.
In Djokovic's defense, we've all seen players hundreds of times knock loose balls toward the backboard, often harder and with far greater histrionics than Djokovic did….
[O]ff the court, Djokovic reportedly is known as thoughtful, witty, warm, and extremely charitable. He's a champion who merits far more audience love than he receives…..
[The full column is here.]