By Quin Hillyer at The Washington Examiner;
MOBILE, Ala. – When last we visited the Alabama special election for the U.S. Senate seat vacated by now-Attorney General Jeff Sessions, it already was looking like a strange one. But with just 11 days to go before the Aug. 15 Republican primary, the campaign has turned into a nearly-Kafkaesque parade of horribles.
Much of what makes it horrible is emanating from the orbit of Senate Majority Leader Mitch McConnell, whose heavy-handed intervention is unwelcome among broad swaths of party activists here.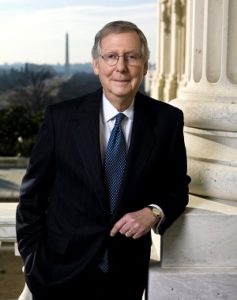 Alabama is a state so heavily Republican that most observers think the GOP nomination will be tantamount to eventual victory. (Democrats, though, have recruited a respected candidate in former U.S. Attorney Doug Jones). Of nine Republican candidates, four are thought to have a chance at qualifying for one of the two spots in the expected party runoff….
[Later in the column]…
[Appointed incumbent Luther] Strange's "positive" ads have been almost a self-parody of paeans to guns, Donald Trump, God, and Trump again. But the vast bulk of Strange-connected money in the past month has flooded the airwaves with attacks on Brooks for anti-Trump statements Brooks made while supporting Ted Cruz in last year's GOP primaries. Those ads oddly continued even as Trump unmercifully heckled Alabama hero Jeff Sessions – which had the effect of reminding Alabamans why Brooks and others rightly find Trump at times to be eminently objectionable.
[U.S. Rep. Mo] Brooks has responded with a series of brazen pander-blasts of his own…[A]mid reported poll slippage, Brooks ran an ad containing footage of him firmly asserting gun rights in the immediate aftermath of the shooting, which Brooks witnessed, of House Majority Whip Steve Scalise. So crass was the impression of Brooks trying to capitalize on tragedy that several of Scalise's staffersopenly expressed disgust….
[Still later]…. [F]or tactical reasons beyond the ken of most local observers, McConnell's PAC began blasting away at [former Alabama Chief Justice Roy] Moore, too, in effect accusing him of improperly enriching himself through a Christian legal foundation he and his wife have operated.
The charges are ludicrous….
[Of course, the full column is here.]