(Quin Hillyer, Liberty Headlines) This time it isn't only conservatives blasting Hillary Clinton for self-centered blame-shifting.
The former First Lady and Secretary of State re-emerged in a big way with several notable public appearances in the past few weeks, and earned most of the attention for interviews in which she bashed just about everybody but herself for causing her upset loss for president last fall to Donald Trump.
As columnist Andrew Abramson of the (south Florida) Sun-Sentinel summed it up, "This time she blamed the New York Times for its coverage of the e-mail scandal, the Democratic National Committee for providing her with bad data and former FBI director James Comey for the late October e-mail surprise."
Fox and Friends compiled an even longer list of those blamed by Hillary, one that included Netflix, misogynists, and "content farms in Macedonia." Of course, Russia had to be involved, too – not just a few Russians, she said, but "1,000 Russian agents."
Most particularly, though, Mrs. Clinton last week blasted the DNC, especially its data/technology operation.
"I inherit nothing from the Democratic Party," Clinton said at something called the "Code Conference." She continued: "I mean, it was bankrupt. It was on the verge of insolvency. Its data was mediocre to poor, nonexistent, wrong. I had to inject money into it."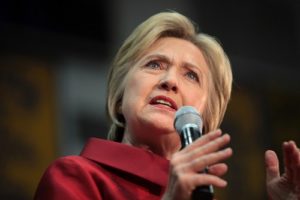 The ex-candidates' complaints finally catalyzed a fierce backlash. Some came from Republicans….
[later in the article] ….But, as noted earlier, this time it wasn't just conservatives pushing back. An official editorial of the far-left Charlotte Observer said that "Hillary Clinton went from wounded to whiny, from sympathetic loser to sore loser."…
Former Clinton aides chimed in, too. From aide Patti Solis Doyle, "I'm tired of hearing who/what she blames 4 loss." Former campaign press secretary Brian Fallon said "we're past the time where we should be re-litigating our failures."
And even liberal U.S. Sen. Al Franken of Minnesota said "she has a right to analyze what happened, but we do have to move on."…
[The full article is here.]