(Sept. 15) The Justice Department's move to open a criminal investigation into the publication of former national security adviser John Bolton's memoir sends a chilling signal to all people who value free speech.
Criminal charges, if they come, would look like a horrendously political prosecution, yet another piece of evidence that the Trump Justice Department has become a virtual arm of the Trump reelection campaign. It comes just as almost the only independent top official there, the department's inspector general, has quite understandably opened his own inquiry into Attorney General William Barr's intervention in the sentencing recommendations for Trump friend and noted dirty trickster Roger Stone.
And what is the allegation against Barr? Well, two department officials, one of them under oath, say that Barr's intervention was impermissibly politically motivated. They join a spate of other, similar criticisms against Barr's regime, one of which was manifested in the resignation of another top department prosecutor in protest over what she says is his politicization of an investigation into the origins of the controversial "Russia probe" that so bedeviled President Trump.
All of which adds context to the suspicion that the criminal investigation of Bolton, one that Trump specifically threatened several months ago, is another misuse of the Justice Department for political payback rather than solid legal considerations.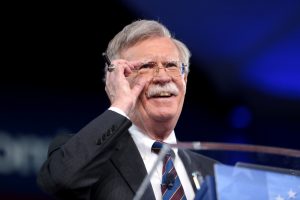 Bolton is accused of revealing classified information in his book, after not waiting for an official letter telling him all the material therein was unclassified. Concerns for classified information aren't irrelevant. Some of us who are national-security hawks appreciate almost all efforts to protect truly security-related state secrets.
On the other hand, a very real problem of "overclassification" exists, with officials using the cloak of security to hide what really should be public information, the secrecy of which is hardly essential for national defense or diplomacy….
[The full column is at this link.]