(Sept. 17) Cokie Roberts, the legendary journalist of print, radio and TV, died today of complications from breast cancer. She held tightly to old-school standards of professionalism and personal decency. Politically liberal, and the daughter of two liberal members of Congress, she nonetheless was trusted by conservatives as well as liberals to be fact-based, fair-minded, and thoughtful.
Young journalists should emulate her. Actually, all people, of all trades, should emulate her. She made the public square a better place.
Other news obituaries will note Roberts' pedigree: Her father, Hale Boggs of Louisiana, was U.S. House Majority Leader when his small plane disappeared in the Alaskan mountains in 1972. Her mother, Lindy, succeeded her late husband in the House until 1990, and later became ambassador to the Vatican. Some will hint, as much as "straight news" can, that Lindy Boggs was the very definition of graciousness personified, often accomplishing more in Congress with a smile and a whisper than almost any of her colleagues could do by twisting every arm in sight.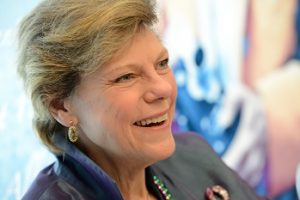 By all accounts, Cokie Roberts inherited her mother's natural charm and kindness. Those attributes did not disable her from asking the hard questions a journalist must ask, but they made it clear to all that she was doing so without malice or hidden agenda. Through it all, even when delivering liberal-leaning commentary (which she carefully labeled as such, rather than mislabeling it straight news), Roberts insisted that truth and accuracy, not a partisan or ideological agenda, was her animating motivation.
For decades she and her husband Steven, an accomplished newsman in his own right, co-wrote a regular political column, rather centrist in viewpoint. The very last one, published earlier this month, captured Roberts' concern for keeping civic life civil….
[The rest of this tribute to warm and wonderful lady is here.]
….
BONUS: Louisiana's former U.S. Rep. Bob Livingston, who served for years in Congress in the adjoining district to Cokie's mother Lindy Boggs, emailed this comment to me: "She was as nice as her Mom.  We differed politically, but I always had the utmost respect for her intellect and charm.  We were the same age and were always friends. I was shocked by the news that she had passed away; I will miss her."