Five pieces on sports and culture. For the full columns, follow the links embedded in the headlines.
Absurd politics of Time and Sports Illustrated help show why Americans chose Trump (Dec. 16). A large reason President Trump has such a fervid following is that he embodies the rest of America's backlash against the cultural Left's insistence on politicizing everything and making us embrace their wokeness….
Omission of Drew Brees makes 'NFL 100' team a sick joke (Jan. 4). Amid a series of eight or nine other highly questionable decisions in fashioning the NFL 100 team, the failure to include New Orleans Saints quarterback Drew Brees stands as the most egregious — followed closely by the failure to include Bart Starr….
In New Orleans, manning the record books is a Brees (Dec. 17). NEW ORLEANS — One favorite son surpassed another here Monday night as Saints quarterback Drew Brees set the all-time mark for passing touchdowns at 541, breaking the prior record of 539 held by the legendary Peyton Manning, a native of New Orleans. As Brees's Saints were putting a 34-7 beating on Manning's former team, the Indianapolis Colts, the crowd was rocking and celebrating as only New Orleanians can….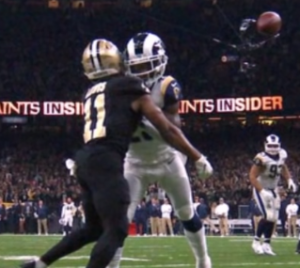 NFL merits multiple penalty flags for its inept officiating (Dec. 30). Note: I wrote this BEFORE the Saints again were rooked by a horrid non-call on pass interference. For more on that, don't take my word for it; see this and this. among numerous authorities I could cite. And that doesn't even include the reality that the Saints should have had a week off anyway, because the refs blew another game the week earlier in a way that badly hurt the Saints….
True stories were the best movie genre of the decade (Dec. 30). Forget superhero flicks, mob movies, futuristic fantasies, and love stories: The best movie genre of the 2010s, by far, was the dramatization of true tales.
Hollywood has become very good at telling stories when the writers aren't forced to invent the plots from scratch. In the past decade, the truth may not have been stranger, but certainly was better than fiction.
Indeed, I rate every movie I see, and those closely based on real events comprise a full dozen of my highest-rated 16 or 17 movies of the decennium. This is all the more remarkable considering that because the stories are (largely) true, the audience usually already knows the basic endings. It takes real talent for moviemakers to maintain narrative tension and keep an audience engaged without the benefit of mystery about the ending. Yet, Hollywood has become quite adept at meeting this challenge. Consider Sully (2016)….