(Official Washington Examiner editorial, June 26)
Despite President Joe Biden's foreign policy weaknesses and blind spots with regard to Russia, Iran, and elsewhere, his administration admirably continues acting with at least some cleareyed strength against some of communist China's assaults on human decency.
Three times in the past week, the Biden team has shown some welcome gumption against China. The first two steps were sea-based. Challenging China's illegal and belligerent claims to sovereignty over the South China Sea and the Taiwan Strait, the Navy has sent the USS Ronald Reagan aircraft carrier group and the guided-missile destroyer USS Curtis Wilbur in separate transits of those international waters. The third step came Thursday, when the administration announced various penalties against companies believed to be using forced labor in China's Xinjiang region to produce raw materials for solar panels.
The biggest target is the Hoshine Silicon Industry Company and its subsidiaries, imports from which will be banned indefinitely. Separately, the Commerce Department is adding Hoshine and four other Chinese "entities" to a list upon which strict burdens, usually amounting to bans, would be placed with regard to commercial transactions involving them. Also, the Labor Department would add Chinese polysilicon to its list of products made with either child labor or forced labor.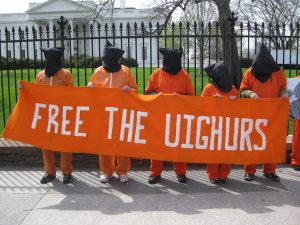 The White House fact sheet on the moves specifically accuses the entities involved of "participating in the practice of, accepting, or utilizing forced labor in Xinjiang and contributing to human rights abuses against Uyghurs and other minority groups in Xinjiang." The penalties come atop similar ones previously placed on 48 other Chinese entities and against numerous other Chinese products, "including cotton, garments, footwear, electronics, gloves, hair products, textiles, thread/yarn, and tomato products."
Granted, these sanctions in and of themselves won't do much to harm the targeted industries… [but] symbolism is and always has been important in foreign policy…. [The full editorial is at this link.]