(Feb. 11) This Democratic presidential nomination battle has the feel of the party's disastrous 1972 contests that resulted in a 49-state landslide for Republican incumbent Richard Nixon over left-wing Sen. George McGovern of South Dakota.
That Democratic tussle, like this one, featured a multicandidate field navigating an uncertain and volatile Democratic electorate. Like this race, with socialist Sen. Bernie Sanders making the party establishment extremely nervous, the 1972 primaries pushed to the fore a candidate, McGovern, seen as so radical that party insiders appeared to be in full panic mode. And, as in this year with Joe Biden, in 1972, a former vice president, Hubert Humphrey, was seen as at least a co-favorite early on but couldn't sustain any advantage.
In addition to McGovern and Humphrey, the 1972 Democratic war's major contenders included Maine's well-respected Sen. Edmund Muskie, former giant-slaying Sen. Eugene McCarthy of Minnesota (who effectively pushed President Lyndon Johnson out of the 1968 race), and Alabama Gov. George Wallace, making his third run for the presidency. Nobody was able to become a clear front-runner. Humphrey won five Rust Belt contests; Wallace won eight primaries (or state conventions), and tied for first in two others, and was on a major roll not even in non-Southern states before an assassination attempt left him paralyzed. Late-peaking Sen. Scoop Jackson of Washington state won seven contests; Muskie won five; and U.S. Rep. Shirley Chisholm of New York became the first black candidate to win contests with one outright win and two ties.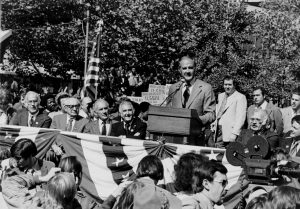 …
…As results come in from New Hampshire's primary, it seems likely that this year, as in 1972, multiple candidates will be able to remain competitive for quite some time, rather than having the nomination fight settle into a two-person race. Sanders, Pete Buttigieg, Amy Klobuchar, and Michael Bloomberg (because of his vast wealth) all seem to have a chance for real staying power. And while Biden seems to be all but dead in the water, there still remains a narrow window for him to remain relevant if he can somehow pull out a win in South Carolina….
… The one difference between this field and the one in 1972 is that the 1972 candidates had significantly higher stature entering the battle than this year's group (other than Biden) does. ….
[The full column is here.]