Today we start what I expect will be a mostly regular feature. Every weekday, my brother-in-law Zach Robinson provides a wonderfully written, concise summary of the three or four most interesting stories from that day's Wall Street Journal. Each week here at QuinHillyer.com, I will choose several of the more interesting of those and run it at this feature. It's a good way to catch up with what you might have missed. — Quin
By Zach Robinson
1. Health-policy developments
A health insurance carrier named Anthem, which is headquartered in Indianapolis, released a statement saying it supported the Senate plan to reform Obamacare, as it would align premiums to costs and make for a more efficient marketplace. This endorsement is considered important given the Congressional Budget Office's finding that some 20 million Americans would find themselves without coverage by 2026.
2. Dems lose ground among middle class
Polls suggest that the Democratic Party's once vise-like grip on the allegiance of America's middle class has been loosened due to such legislative priorities as Obamacare, global warming, and a raise in the minimum wage. This misdirection has resulted in an opening for President Trump's party. Regionally, the Midwest is where this turn in sentiment predominates.
3. Notes on visit from PM of India
President Trump welcomed Indian Prime Minister Narendra Modi to the White House, and the meeting was amicable as both leaders stressed common values and cooperation on such issues as Afghanistan and counter terrorism. India has a trade surplus with the United States, but this previously hot button issue was played down. The former British colony has been slow to recognize intellectual property rights, but it has the trappings of the rule of law, so perhaps this shortcoming can be corrected.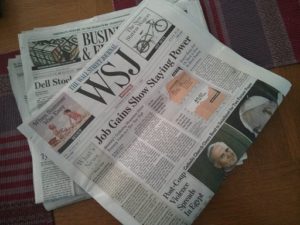 4. Banks pass stress test
The Federal Reserve's annual stress tests of the nation's thirty or so largest banks found all of these corporations to be financially sound, and so this report means that they can engage in offering more dividends and share buybacks for their owners. As a result, investors bought bank stocks, which led the market to trade up by about 1 or so percent yesterday in a small rally. In contrast, the market for government bonds has weakened as the perception grows that the country's central bank will sometime soon begin to sell off parts of its inventory of debt securities, potentially depressing prices.
5. John Bolton says get tough vs. Russia
Former United Nations ambassador John Bolton published an essay in which he advocated for a more forceful posture by America against Russia and Iran in the Middle East, in a reversal of former President Barack Obama's diplomacy. Ambassador Bolton said it was self- deceiving not to realize that Russia's principal goal was to build bases and relations with allies in the region, not to fight Islamic State as once thought. Iran likewise has tried – and mostly succeeded in – subverting Iraq into a Shiite haven, which poses a threat to Saudi Arabia and the Persian Gulf states. Mr. Bolton proposed creation of new state made up of carve-out of Sunni Iraq lands from today's Iraq.