I must admit, this feels odd. I have almost no sympathy for Gen. Flynn, who seems to me to have shown bad ethics or bad judgment on multiple occasions — but the only three times I have written columns on his case, all three have been basically in his defense. There's a difference between bad ethics (broadly speaking) and illegality, and I try to keep that distinction clear. Anyway, two of those columns  them came in the past week. Here they are. To read the full columns, follow the links embedded in the headlines.
If Flynn's lies to the FBI were not 'material' to a legitimate probe, they aren't a crime (May 12): Gen. Michael Flynn never should have been national security adviser. But it is now clear that the legal case against him was crooked.
Attorney General William Barr was right to recommend vacating Flynn's conviction. Federal Judge Emmet Sullivan ought to accept that recommendation.
But let's also not mince words: Flynn is no paragon of virtue. He took money to cozy up to Vladimir Putin's propaganda outfits and took on unsavory work for Turkey's horrible regime. He filed misleading official documents about his work for Turkey, and then he admittedly gave materially incorrect information to FBI investigators about a conversation with a Russian diplomat. It strains credulity to suggest he couldn't remember, from a conversation not many days earlier, whether or not he discussed sanctions with that ambassador.
Nonetheless, it has been evident for at least 17 months, even to critics of Flynn and his onetime boss, President Trump, that Flynn was the victim of an ethically dubious perjury trap. [Technically, he isn't charged with "perjury," but of lying to the FBI — but that's a minor distinction.]….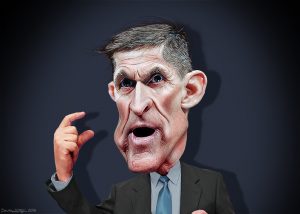 Flynn's unmasking may have been okay, but the leak wasn't (May 13): People are making too much of the "unmasking" of General Michael Flynn, which may have been entirely justified – but what was almost certainly illegal was the leak to the Washington Post of the information from those unmasked calls…. Indeed, [the leak] was an appalling breach of both national security and of Flynn's civil rights…..