Louisiana Republican tried Trumpism with a twist (Nov. 11). 
NEW ORLEANS — In the race for Louisiana governor that culminates this coming Saturday, Republican Eddie Rispone is doing a remarkable job of pushing Trumpism without the Trumpiness.
Rispone's website homepage pounds home a simple Trumpist message with three words in big, bold letters: "Conservative. Outsider. Businessman." His slogan is "Make Louisiana Great Again." Ad after ad in this conservative, pro-Trump state features President Trump criticizing incumbent Democratic Gov. John Bel Edwards or boosting Rispone while Rispone says, "We need someone to do for Louisiana what President Trump has done for the U.S.A."
Rispone denounces the "witch hunt" against Trump, supposedly led by "a bunch of lunatics." Tying Edwards to Hillary Clinton, he says, "John Bel can't run from his party," but "we stand with Trump, folks."
Still, Rispone recognizes that while most Louisianans embrace Trumpist policies and Trump's outsider image, Trump's angry, attacking, in-your-face style turns off many voters reassured by Edwards's relatively moderate political image and reassuring demeanor….In that light, Rispone's campaign has been running an ad that bowled me over as it aired again and again on Louisiana TV last weekend. It features his warm-hearted daughter, Dena Rispone, speaking straight into the camera about what a wonderful guy her dad is. …. [The full column is at this link.]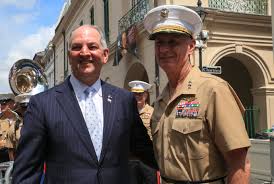 John Bel Edwards used patriotism as a false refuge (Nov. 11). 
Louisiana Democratic Gov. John Bel Edwards, not content to leave a murky situation alone, has released a blatantly dishonest TV ad accusing supporters of Republican challenger Eddie Rispone of dishonesty.
Bear with me here, because there are multiple aspects of this controversy erupting in the final week of Louisiana's gubernatorial campaign. (The election will be on Saturday.) In the end, though, the only aspect that features an obvious right and wrong is the final one, and the person very much in the wrong there is Edwards….
[The full column is at this link.]