Note: After I wrote this column on Dec. 11, President Trump chose Mick Mulvaney as his interim chief of staff. But note the word "interim." Those in the know understand that Trump may still find a long-term replacement and send Mulvaney back to his budget office. Either way, what Trump should do is what I recommend below. — Quin
With those considerations in mind, we all should want Trump to choose David Bossie to replace the departing John Kelly. Bossie, the longtime president of the Citizens United conservative action group, was listed publicly Monday as one of five top contenders for the job, and he has all the characteristics needed to do it well.
I'm biased: I've known Bossie for a quarter-century now, and worked as his ally on Capitol Hill in the 1990s. But as a patriotic American, I value governing competence over personal alliances – and Bossie possesses that competence in great abundance.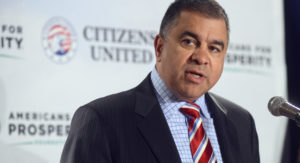 Bossie first gained national notice as one of the chief Republican investigators into the myriad world of Clinton scandals. He got a reputation as a hard-nosed partisan – but what most of the liberal media didn't like to report was that he was scrupulously honest and substantive.
A vast number of conspiracy theories surrounded the Clintons, but Bossie was determined to separate wheat from chaff: If the story or the claim wasn't provably factual, he wanted nothing to do with it, and if Bossie said something was indeed true, the congressmen for whom he worked could count on it entirely….
[Read the rest of this column right here.]