(July 14) Golfer Bobby Jones was the beau ideal, in the fullest and best sense, of the amateur sportsman. Benjamin Franklin was, well, Benjamin Franklin. It is a testament to the character of golfer Jack Nicklaus that this week, he joined those two luminaries as the only Americans ever named honorary citizens of the town of St. Andrews, Scotland.
This is a big deal.
Even apart from its status as the "Home of Golf," St. Andrews is a magical place. Its grand, namesake university, founded in 1413, is sometimes ranked above even Oxford and Cambridge as the best in the United Kingdom. Its charmingly narrow streets are lined with handsome stone buildings. Its wind-whipped North Sea beach, featured in the famous opening scene of Academy Award for best picture-winning Chariots of Fire, is an intoxicating mix of starkness and loveliness.
All of which is a wonderful backdrop for golf's iconic Old Course, designed more by nature than by man. At first visually simple, its subtle vagaries provide an almost infinitely variable and captivating test for golfers of all levels. Since 1905, only two people, Nicklaus and Tiger Woods, have won more than one British Open on those links.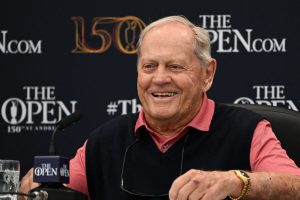 Not even Woods has matched Nicklaus's record 18 professional "major" titles (Woods has 15), and Woods's seven runner-up major finishes and four third-places pale in comparison to Nicklaus's 19 (!!) and nine, respectively. Still, it is not merely Nicklaus's numerical record that makes him worthy of joining Franklin and Nicklaus's own idol, Jones.
By common acclaim, there may never have been a more gracious all-time great in any modern sport than Nicklaus. From his famous "concession" (allowing a match to be tied) that essentially saved the Ryder Cup to his arm-over-shoulder exits with Tom Watson after being beaten excruciatingly at the 1977 British Open and 1982 U.S. Open, and to his presence of mind in stopping crowd rushes on more than one occasion after he had secured victory but before his opponents had putted out, Nicklaus both won and lost with exquisite class…. [The full column is at this link.]