The measure of how tethered Democrats are to reality and American values may be the degree to which former Colorado Gov. John Hickenlooper gains traction in the race for the party's presidential nomination.
It must be admitted that Hickenlooper is more than a little quirky. He has said he once drank fracking fluid to prove its safety; he did a TV ad walking into a shower while fully dressed, and he took his mother (by mistake, he said) to see the famous X-rated movie "Deep Throat."
Quirks, though, can be forgiven. What distinguishes Hickenlooper is his open opposition to his party's crazy-left movement towards socialism. The country desperately needs at least semi-centrist Democrats to remain viable within their party, so as to ward off the radicalism that could lead to economic collapse while abridging liberties in the name of "social justice."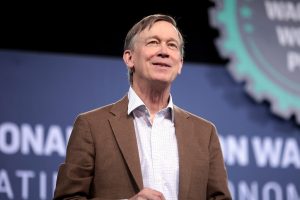 When Bernie Sanders, the longtime, benighted admirer of the Soviet Union and Castro's Cuba, made a big speech Wednesday advocating that the United States adopt a "revolutionary" system of "democratic socialism," Hickenlooper responded forcefully.
"The Democratic field has not only failed to oppose Sen. Sanders' agenda, but they have actually pushed to embrace it," he said at the National Press Club. "Democrats must say loudly and clearly that we are not socialists."….
[To read how Hickenlooper wants to "save capitalism," but why he also is no conservative, read the full column here.]