President Trump should renominate North Carolina lawyer Thomas Farr for a federal judgeship, and the Senate should approve him, despite the strange and still-unexplained opposition to Farr by Sen. Tim Scott, R-S.C.
Last November, Scott told Fox News' Shannon Bream that he intended to support Farr's nomination, only to change his mind 24 hours later and force the nomination to be withdrawn for the rest of the last Congress. Scott provided no specifics as to why he changed his mind.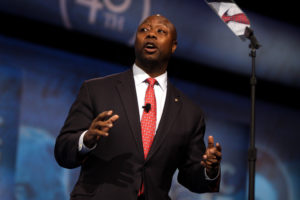 At issue was a 1991 memo regarding a racially charged postcard that had been mailed by the 1990 re-election campaign of then-Sen. Jesse Helms, R-N.C. As Scott originally and accurately told Bream, the memo reported that Farr had explicitly advised against the mailer and was only tangentially involved in the overall campaign. Farr also had been assigned by his law firm, as a first year associate, to do legal work for Helms' earlier, 1984 campaign — in which, as the 1991 memo also makes clear, Farr distinguished himself by successfully advising the campaign to avoid racial pitfalls.
In short, the memo exonerated Farr of nefarious activity and, as Scott himself told Bream, Farr's record is otherwise superb — and even some of his ideological adversaries who were Obama appointees have attested to his fine character.
Farr was also the chairman of the review committee which, some 20 years ago, recommended Bill Webb for appointment as a federal magistrate, the only African-American ever to serve on the federal bench in the Eastern District of North Carolina.
Nonetheless, Scott dug in his heels against Farr last week, issuing a scathing statement in response to a letter 33 conservative luminaries sent to him asking him to drop his opposition. Those signatories included South Carolinian Jim DeMint, the former president of the Heritage Foundation whose former Senate seat Scott now holds, and former U.S. Attorney General Ed Meese….
[The full Examiner column by Quin Hillyer is here.]