(May 26) Former U.S. Attorney General Jeff Sessions is finally getting feisty in his battle to win back his old Senate seat from Alabama — and his feistiness is nothing compared to that of one of his most prominent supporters.
Substantively, though, the most important new argument is not only that President Trump has been wrong to blame the controversial "Mueller investigation" on Sessions' recusal from the probe into Russian misdeeds but also that Sessions's recusal actually helped Trump in the long run.
Let's unpack this. In the campaign for the July 14 Republican primary to face Democratic incumbent Doug Jones in November, Sessions has been running behind former Auburn University football coach Tommy Tuberville. Trump has barraged Sessions with tweets blasting him for his tenure at the helm of the Justice Department, but until recently, Sessions has defended himself without directly taking on the president.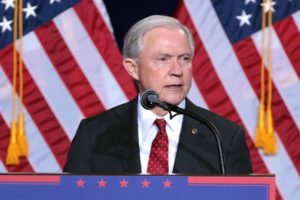 Now, Sessions is not only answering Trump directly but also stepping up the fight against Tuberville. The temperature of the race his risen markedly.
The recusal has been the biggest bone of contention between Trump and Sessions. The gentlemanly Sessions finally had enough on May 22, answering a Trump tweet with one of his own, saying this: "Look, I know your anger, but recusal was required by law. I did my duty & you're damn fortunate I did. It protected the rule of law & resulted in your exoneration."
Sessions is picking up on the astute argument made in a May 15 AL.com guest column by former Alabama Supreme Court Justice Champ Lyons, a tremendously respected exemplar of conservative jurisprudence.
"Jeff's compliance with the law was essential to the favorable result of complete and wholly credible exoneration desperately needed by the President in the investigation of the charges of collusion by the Trump campaign with Russia," Lyons wrote. "Had Jeff ignored ethical standards and led the investigation, the media would have swiftly and derisively dismissed any ensuing exoneration as the product of pro-Trump bias."…
[The rest of the column is here.]