Three unrelated pieces by Quin at the Washington Examiner (follow the links embedded in the headlines):
Trump should oust Maduro like Bush ousted Noriega (May 1):
President Trump should end the humanitarian crisis in Venezuela by treating that nation's illegitimate ruler, Nicolás Maduro, the same way President George H.W. Bush treated Panama's Manuel Noriega in 1989.
Bush used the American military to oust Noriega from power within four days. Trump might be able to oust Maduro even more quickly, probably within two days, perhaps without firing a shot.
Trump should call in the top leadership of Congress and secure unanimous buy-in (more on that later), and then announce publicly that if Maduro doesn't relinquish power within 48 hours, U.S. airstrikes will begin — against Maduro's regime, but on behalf of the Venezuelan people. He should say that all Venezuelan military leaders should pledge allegiance to interim president Juan Guaidó, but that those who don't will be treated as targets of the U.S. armed forces unless they leave the country via public requests for asylum from other nations….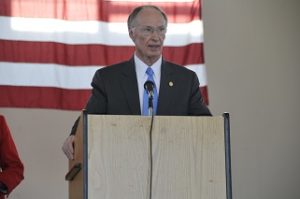 Luv Guv may join the fray in Bama Senate race (April 30): 
As if Alabama didn't experience enough political follies in 2017, the Luv Guv and the (allegedly) child-groping Ten Commandments judge may be back in the show again, this time joined by fizzled football coach Tommy Tuberville.
The state's major newspapers were reporting on Tuesday that Robert Bentley, who resigned as governor in 2017 following a multi-pronged scandal that began as an illicit sexual affair, said he may run for the Senate in 2020. "If the opportunity arises and things work the way they should," he said, "then we may consider it."…
Inmates shouldn't vote, but more rehabilitation would be wise (April 30):
In light of a new poll showing 75% of Americans disagreeing with presidential candidate Bernie Sanders' advocacy of allowing prison inmates to vote, it's worth revisiting why Sanders' proposal immediately sounds ludicrous to so many of us.
A key distinction I want to make first and again is between human rights and civic-political rights. The latter, in truth, are conditional privileges….