By Quin Hillyer at The American Spectator;
As the recent PGA Championship confirmed the arrival of Justin Thomas as yet another of golf's growing group of engaging, interesting, likable, gritty superstars, it also was adding to my worries that trends in golf-course architecture or maintenance are going in exactly the wrong direction.
It so happened that as the PGA was being played in North Carolina, I was fulfilling a 42-year dream of playing one of the PGA Tour's classiest, old-style layouts, the Harbour Town Golf Links on Hilton Head, South Carolina. On just about every issue where I think courses these days are going wrong, Harbour Town does it right.
The facets of modern courses to which I object (not all of which, thankfully, applied to the PGA's lovely Quail Hollow course) are:
1. Too little emphasis, through natural features, on driving the ball straight;
2. Relatedly, too much advantage to people who bash the ball a long way without necessarily being straight (I think length of course should be an advantage, but only if the long ball doesn't veer too much off center);
3. A growing, and strange, movement to remove, and de-emphasize, trees;
4. Extravagantly sloped greens with grass cut so short that putts roll extravagantly quickly;
5. Obsessions with "links"-like looks — wide open spaces, huge humps, hillocks, and mounds, weirdly wispy grasses — even on inland courses or on lakeside courses on land that is naturally wooded and lush.
If a course is on land that naturally has links-like features, then by all means emphasize the linksy-ness of it. I love a good, true links course. But if you're building a course on the Puget Sound where verdant green woods are the norm — or in the non-lake-adjoining Wisconsin inland, in an area where at least some trees naturally grow and beautify the landscape — then, fergoshsakes, don't try to make the darn place look like St. Andrew's or Ballybunion.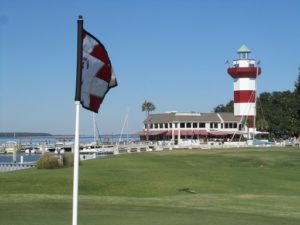 If the course's best defenses are greens that are outrageously tricked up (unless you're Augusta National, where at least the greens' slopes appear natural to the landscape), so that what you really are creating is a glorified "extreme putting" contest, well, then, you've screwed up your course. (I read that the PGA's greens were running 14 or higher on the Stimpmeter, the measure of green speed. That's insane. When the Stimpmeter first was invented, if memory serves correctly, most ordinary courses ran about 7 or at most 8; most tour courses ran about 9; and any course with a 10 or higher was considered super-fast — and that was even without greens not designed to look like an orgy of dromedaries with humps poking out from all sorts of unlikely places.)….
[This is a very long piece, with a hole-by-hole review of Harbour Town, but golf enthusiasts might really like it. The full article is here.]