Two columns, from one exclusive interview with V-P Mike Pence. To read the full columns, not just the excerpts, click on the link embedded in each headline.
Pence might be the one who finally kills fed Ed Department, sends control back to states (May 2): 
Former Vice President Mike Pence has now put meat on the bones of a four-decade-old desire of conservative activists to eliminate the federal Department of Education . His ideas, discussed in an exclusive May 1 phone interview , track well with the elements of a column last week by two former top advisers to conservative former Education Secretary Betsy DeVos.
The conservative advocacy group founded by Pence, Advancing American Freedom , has for two years called to eliminate the department, whose creation, Pence said, was "a bad idea" from the start. But the question is, how?
"Education is a state and local function," Pence said. "It ought to ever continue to be so. As it is … less than 10% of what this country spends on education comes from the federal government … But the opposite is true in terms of education policy … The heavy hand of federal regulation plays an outsized role."
He continued: "The very simple answer would be to block-grant the budget of the federal department of education back to the states, close down the department at the federal level, and allow states to use those resources to expand educational choice for families. We're at the very beginning of an evolution-choice revolution."….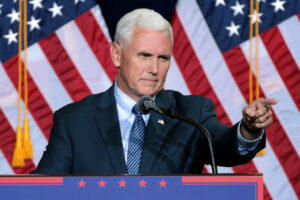 Pence says bank collapses are Biden's fault (May 2): 
Former Vice President Mike Pence used Monday's collapse of First Republic Bank as occasion to blast the Biden administration for policy mistakes he said created the conditions for the bank's demise.
"The [Federal Deposit Insurance Corporation] has agreed to cover some $13 billion in losses when the bank was sold to J.P. Morgan: It's just one more Biden bailout," he said in a phone interview, noting that this second-largest bank failure in U.S. history followed the failures in March of two other banks, which now are the third- and fourth-largest failures ever…..