(March 18) Republican Sen. Ben Sasse of Nebraska ran rings around Sen. Chris Murphy, a Connecticut Democrat, on the Senate floor Thursday, making three important points in the process.
Earlier, Murphy had tweeted out the following, misleading attack on nine colleagues: "Of the Republican Senators who attended this weeks [sic] 'Biden isn't doing enough for Ukraine' press conference … 2/3 of them [whom he listed by name, including Sasse] voted AGAINST the bipartisan $12B Ukraine aid package."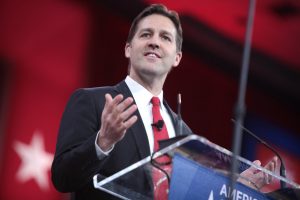 Sasse took to the floor to respond. He explained that it wasn't primarily a Ukrainian aid bill, but a $1.5 trillion bill, passed in the middle of the night, which not a single senator actually had time to read, and of which just eight-tenths of 1% involved assistance for Ukraine. He said all nine of the senators slandered by Murphy supported assistance to Ukraine and that the Ukraine portion of the bill could have been handled separately, and passed overwhelmingly, in just 10 minutes — but that they were not going to let a whole lot of objectionable stuff be passed merely because Democratic leaders held Ukraine aid hostage to the rest of it.
In an 11-minute floor speech and a subsequent floor debate with Murphy, Sasse repeatedly made three points. First, Ukraine desperately needs help, and Republicans are eager to provide it. Second, Congress's budgeting process is badly broken when the entire government (aside from entitlements) is funded by a single, up-or-down vote, in a 2,700-page bill that no senator actually has read. Third, senators who misleadingly attack other lawmakers are engaging in "tribal hackery" and that the misuse of social media and other means of communication was beneath the Senate's standards.
In the course of trying unsuccessfully to defend his dishonest tweet, Murphy eventually conceded all three of Sasse's points…. [The full column is at this link.]