A longer version of a piece that will appear in the magazine edition of the Washington Examiner, by Quin;
The anti-abortion biopic Unplanned provides a challenge to Hollywood's supposedly oh-so-moral hatred for blacklisting artistic expression.
The film's lead actress, Ashley Bratcher, who gives a spectacular performance, says she was warned the major studios would never hire her if she accepted the role of abortion-clinic director-turned anti-abortion activist Abby Johnson. After Bratcher's stunningly effective star turn, Hollywood will be committing a crime against future audiences if it does indeed blacklist her.
Numerous reviewers otherwise hostile to Unplanned nonetheless acknowledge the nuanced and believable grace with which Bratcher carried out her role. Reviewer Troy Anderson, for example, pronounces the final third of the movie a "caricature" and "crazy town," and identifies himself as "a cold humanist" whose "feelings about abortion might play a little closer to the coasts." Nonetheless, he writes: "Ashley Bratcher carries Unplanned on her back…. Bratcher is doing something amazing for [Christian production company] Pure Flix. She's starting to get them on the road to credibility."
Bratcher makes a viewer like her equally as much when her character is the youngest Planned Parenthood clinic director in the country as when she leads the effort to close the clinic down. She helps the viewer sympathize with a reckless college kid getting pregnant and securing an abortion, and understand how such a collegian could volunteer for Planned Parenthood thinking that by providing birth control she would be reducing the occasion for other abortions. She produces a character winsome enough to make it believable that a strongly pro-life husband could deeply love a wife who so aggressively led an abortion provider that she was named Planned Parenthood's "employee of the year."
Even a Hollywood director who thinks the movie as a whole is awful (it's not) and who absolutely despises its pro-life message should recognize Bratcher's talent. The director should see it just as clearly as directors saw a mega-star in Michelle Pfeiffer amidst the pathetic train-wreck of a movie that was Grease 2.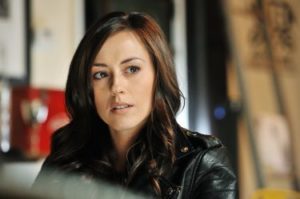 Nobody knows yet whether the prediction of blacklisting will prove true, although Hollywood's mono-minded support for unrestricted abortion is well recognized. What is indisputable, however, is that leftist Hollywood elites say they detest blacklists even (or perhaps especially) when the blacklist involves actors who secretly conspire as Communists to undermine the American republic itself.
Hundreds of the movie industry's finest, for example, ostentatiously condemned the Academy's honorary "lifetime achievement" Oscar for famed director Elia Kazan who, under oath, had confirmed the already-reported names of eight actors as secret Communist activists. Kazan's "snitching" on fellow performers led, in some cases, to those performers being blacklisted from further roles – a sin that led many to conclude Kazan himself, despite his artistry, should be forever shunned.
Self-righteous leftist actor Sean Penn, seeing no intellectual inconsistency, has the dubious distinction of signing both a lettercondemning Kazan for his blacklist-related activities and a letter in late March demanding a boycott of all filming activity in Georgia because of a new pro-life law in the Peach State.
But back to Unplanned: It's an earnest, thoughtful movie, perhaps a bit too graphic, one which treats most of the Planned Parenthood employees with respect and even empathy. It repeatedly reminds viewers that women undergoing abortions merit compassion, not condemnation. This is as it should be. Any reasonable person should understand the complicated emotions and moral confusion surrounding abortion. Decent people respect the opposing side of the debate from their own, even if profoundly disagreeing with it.
If blacklists are unacceptable even when used against people conspiring against the American system, in favor of a Communist ideology that by the 1940s already had slaughtered at least as many people as Nazi death camps did, surely blacklists should be unacceptable against people creating earnest art on behalf of life. To treat a pro-life actress as too evil to hire is to horrifically invert morality itself.
So let's see if Hollywood, recognizing extraordinary talent, makes Ashley Bratcher a star of a 2020 blockbuster. If not, its producers and directors are craven hypocrites. Self-defeating hypocrites, too – because they'll be denying their movies the services of an actress talented enough to draw massive audiences who choose movies by art or entertainment value, not by the politics of their stars.
[NOTE: Now the published version is available. It is here.]