Tom Steyer absurdly was calling for impeachment before Trump even committed an offense (Dec. 19). Billionaire Tom Steyer began tonight's presidential debate by giving a perfect example of why so many Americans refuse to support the impeachment of a president who manifestly deserves it. By bragging that he "started" the whole impeachment "two years ago," he highlights the fact that Democrats have been merely looking for a pretext to impeach all along….
On impeachment, Democrats offered platitudes, not persuasion (Dec. 18). Democratic speakers by the dozens repeated the same hackneyed talking points, broadly but ineffectively thematic, in a way that would convince nobody even remotely on the fence on impeachment, much less change any minds….
Pelosi and McConnell should stop their game of chicken (Jan. 9). As has become a Capitol Hill custom, everybody involved in the weird game of "chicken" over impeachment articles is wrong….
One impeachment count is far weaker than the other (Dec. 10).
Sen. Doug Jones wants 'truth' from impeachment. How quaint. (Dec. 31).
Trump vs. Bolton? The president can't really block testimony (Jan. 10). Even though President Trump now says he will invoke executive privilege to forbid former national security adviser John Bolton from testifying in Trump's Senate trial, it should be seen as a fruitless gesture. The president has no real way to punish a former aide who chooses to testify, and courts would be unlikely to uphold any penalty he attempts to impose….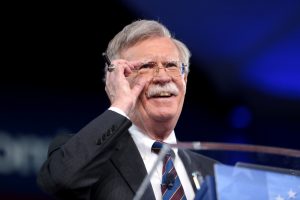 Lamar Alexander should demand impeachment witnesses (Jan. 9). Nobody in the Senate has as much first-hand reason as the veteran Tennessean to understand and appreciate the deleterious effects of misused executive power, especially when not adequately checked by the president's own party….
McConnell will be guilty of cover-up if he blocks Bolton's testimony (Jan. 6).
Unredacted documents show Trump explicitly broke the law (Jan. 2). He violated the Impoundment Control Act of 1974….
House Republican impeachment speeches reeked of demagoguery (Dec. 18).
McConnell is making mockery of Trump impeachment trial (Dec. 17). Senate Majority Leader Mitch McConnell is violating his constitutional duty — and bringing grave dishonor upon the Senate — by treating an impeachment trial as a merely political process while burying all chance for a full and reasonable consideration of the evidence….
Trump's quid pro quo, unlike Biden's, was entirely rancid (Dec. 11).